Textiles for Outdoor Rooms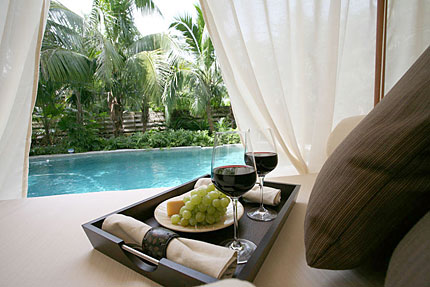 Imagine a romantic bed canopied in fine, sheer draperies. Now imagine leaving it out in the yard all summer. With the lightweight yet durable fabrics available now, outdoor rooms full of upholstered cushions, stylish carpets and rugs, and decorative hangings are as easy to maintain as their indoor counterparts.
Choices for furnishing outdoor rooms have broadened, and, consequently, homeowners wonder how far this removal to their gardens can go. Here in the Northwest, temperatures are moderate, and we are able to keep our yards largely free of pests. But Nature will still have its effects, and the things we leave outside will wear accordingly.
Moisture and plant debris abrade natural fibers, and create habitat for little critters who like to eat them. Fast-drying synthetic fabrics, by contrast, wear well in part because they are not pulled or stretched by the weight of retained water. Rather than absorbing and holding fluid, synthetic fibers wick and drain it away, thereby placing less stress on their structures. As if this weren't enough, advances in chemistry and spinning methods now produce stronger fibers.
The base color of natural fibers comes from the plant or animal from which it is harvested. Fibers may be dyed "in the wool," or after spinning, or even after knitting or weaving, and coatings may be added to them, as seen peeling off of older canvas beach umbrellas. All of these additions are subject to wear and fading. By comparison, synthetic fibers are solution-dyed. This means the dye is added to the chemical soup from which they are spun. The dye is dispersed throughout the fiber itself, so there's no other, original color it can fade to. Other qualities of the fiber come from additives to the solution, such as flame-retardant and antibacterial agents.
Melting points vary, so it's important to protect synthetic textiles from contact with high heat. Keep anything that's been in the barbecue away from rugs and cushions.
The appearance and feel of synthetic textiles have undergone improvements as well. For example, new extrusion methods produce more realistic blades of artificial grass, and in multiple shades of green. Homeowners are taking a second look at artificial grass as they become more aware of such lawn problems as water consumption and allergies.
Carpeting labeled "Indoor/Outdoor" or "All-Weather" are made from the same fibers (such as olefin, polypropylene or acrylic) used in manufacturing outdoor clothing and equipment. For installation, permanent, "wall-to-wall" carpeting requires a concrete subfloor or deck, but is easy to buy in small pieces and attach with double-sided tape. Depending upon how well the floor drains, it's usually best to lay carpeting in a sheltered area.
For patios and decks under the sky, the new rugs of woven or braided polypropylene are remarkably attractive and practical. They can be cleaned with a garden hose, but some are more likely to retain oily stains. A well-made rug can withstand spot cleaning with a mild bleach solution. Synthetic sisal of woven vinyl is very hard wearing, but sisal of polypropylene most resembles natural sisal.
For upholstery, awnings, umbrellas, and canopies, Sunbrella® is the premier fabric. This non-fading, quick-drying, durable acrylic is available in a wide range of colors and weaves. In 2006 Glen Raven Inc. introduced Sunbrella® Sheers: draperies that allow light and air to pass through canopies and other structures. The new fabric lends itself to more delicate designs and styling than did the heavier, sun-proof weights.
Synthetic mosquito and no-see-ums netting is proving effective as an alternative to metal screens for porches and gazebos. Installed as curtains, they can be drawn aside for daytime and closed for the evening when bugs arrive.
Those of us old enough to remember soggy foam-rubber cushions and sweaty, slick upholstery can appreciate the new polyester fillings, sold under the names Dacron® and Permaplush™. Designed to drain fast, they won't keep us waiting long to sit down after hosing or a summer rain.
Hammocks, in use for centuries as occasional or permanent bedding throughout Latin America and by mariners, are better than ever and come in many styles, including the new quilted Sunbrella® hammock now seen in home product catalogs. Traditionally made from palm, bark, or sisal, and later, cotton, hammocks are proven space-savers. One might add mosquito netting for protection or decoration. Hammocks of natural fibers should be stored in a dry place for the winter. A synthetic hammock may stay out the year around, and will come clean with a garden hose, but one may prefer to protect it from autumn leaves and spring blossoms, and take into consideration the stress placed on hooks embedded in wood supports. Another option for napping is a "sports cot." Like a sports chair, it is roomy, attractive, and easy to set up and collapse.
To add color and flair to outdoor rooms, painted canvas drop-cloths can work very well. Decorating techniques include iron-on transfer of images, or patterns for painting, and stenciling, stamping, watercolor effects, wet-on-wet, or dry brush. Canvas decorated with fabric paint and heat-set with an iron can even go through the laundry.
The new fabrics and applications are inspiring better design for outdoor rooms. Summer, and even the edges of spring and fall can add square footage to one's leisure and entertainment space. Add a wireless network, and "working in the garden" takes on a whole new meaning. But most of all, we needn't fear that the furnishings we now add outdoors will go ruined and unused. When we feel inclined to live alfresco, these rooms will readily welcome us and our guests.
Resources
Rich's for the Home
| Rich's maintains large showrooms in Bellevue, Southcenter, Lynnwood, and Tacoma where one can see and touch a range of outdoor textiles, along with furniture, spas and stoves.
"Indoor/Outdoor Carpet" is a short article from the DIY Network on the installation and maintenance of outdoor carpeting.
Sisalcarpet.com offers answers to questions about synthetic sisal.
Dream Turf is a local manufacturer and installer of premium artificial grass.
Glen Raven Custom Fabrics, LLC is the manufacturer of Sunbrella®. For more information, see also Sunbrella.com.
Mosquito Curtains offers a range of materials and ready-made products for online order.
Return to Perspectives