Book Review:
The New Outdoor Kitchen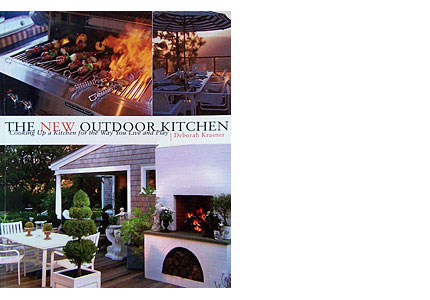 Home cookouts have long been both popular and problematic. Now the best minds in kitchen design are offering robust solutions. Author Deborah Krasner steps through the "four humors" of kitchen design—hot, cold, wet and dry—and explains how readers can plan and create all four zones outdoors. She presents a range of budgets and ideas for starting small and adding features over time, as well as help with determining the scope of large-scale and permanent installations. The reader is introduced to outdoor kitchens in thirteen homes representing five themes: Planning, cooking, convenience, dining, and environmental enhancements.
In the planning stages, Krasner suggests "auditioning," with portable components, a location for the kitchen. Scale is considered in all of its aspects: Numbers of guests, distance from indoor kitchen and water and electrical hookups, the size and variety of food items the cook wishes to prepare.
Krasner describes the many different types of heat sources one considers when cooking outdoors, as well as their savory effects. Electric, gas, and charcoal grills, smokers and wood-fired ovens are discussed even-handedly and in detail. In addition, the reader is treated to photographs of outdoor kitchens designed for culinary professionals Cheryl and Bill Jamison, Rick Bayless, and Michael McCarty.
Outdoor cooking most often brings "the hot zone" to mind, but from there a cook might naturally wish to branch out into the kitchen features needed for wet, cold, and dry activities. Krasner presents choices for ready-made components, surfaces that withstand the elements, and the protection and maintenance they may require depending upon the climate. Also covered are the suitability of restaurant-grade equipment and the strengths and weaknesses of permanent masonry fixtures. After this broad and inclusive report, the reader is treated to examples, from three homes, of fully developed outdoor kitchens that include all four activity zones.
A great kitchen calls for fine dining, and Kasner does not ignore the subject of outdoor entertaining. All five senses are engaged in the al fresco dining rooms shown, with lighting, sound, and scents anticipated and enhanced. As an evening's festivities progress, guests enjoy the changing scene as flames are lit, garden lights glow, and night-blooming flowers cast their fragrance.
The "kitchen garden" of old is a new concept with blurred and convoluted boundaries when both are out of doors. Herbs cannot be fresher than when they are growing within the cook's reach. An outdoor sink can serve graywater to desert plantings, and the window above it is as wide as the sky.
Nearly every reader of The New Outdoor Kitchen is sure to come away with some new ideas for outdoor living, even when cooking is not the priority. The range of topics addressed ensures a lively experience starting with the dream, the planning, and the experimenting, all the way to the feast.
Return to Home by Design